Comprehensive Vein Clinic and Care for Chronic Venous Insufficiency in Lakeville
If you are ready to finally wear shorts again, and get the venous insufficiency treatment that you deserve, then we're glad you're here at the Spartz Vein Clinic. Our sclerotherapy and varicose treatment clinic in Lakeville is dedicated to helping patients like you, who are suffering from various venous conditions, get their confidence back.
Varicose veins, spider veins, and similar issues are relatively common, but in many cases treatment may be required. Our staff has many years of experience treating these conditions, along with many other venous system problems, outlined below.
We're proud to be the best vein clinic in Lakeville, and we're here to provide world-class care and personalized treatment plans for optimal vein health. With Dr. Margaret Spartz and our team, you'll enjoy the best and most innovative vein care in the region.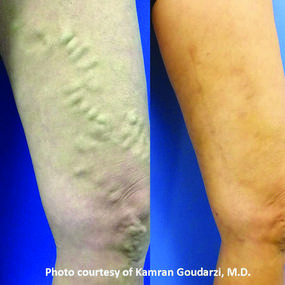 Varicose Veins
Often rope-like or bumpy in appearance, these veins not only stand out but also may come with burning, itching, aching, or cramping.
Reticular Veins
Reticular veins are surface-level and may be bluish in appearance. These are larger than spider veins but smaller than varicose veins.
Swelling
Swelling in the legs that gets worse after prolonged standing may indicate venous disease conditions.
Deep Vein Thrombosis (DVT)
DVT occurs when clots form in deep veins, leading to things like pain, color changes, or swelling in one leg. This is a serious and sometimes life-threatening issue.
Spider Veins
Typically treated for cosmetic reasons, spider veins are small, surface-level veins that may have associated itching or pain.
Skin Changes
Because of pressure on the veins and surrounding skin, late-stage venous disease can cause skin thickening or discoloration.
Ulcers
Venous diseases, if left untreated, may result in the breakdown of surrounding or surface skin, called venous ulcers.
Superficial Vein Thrombosis (SVT)
Due to relatively common inflammatory processes, SVT occurs when clots form in superficial veins. This may result in heat, tenderness, or redness in the area.
CONTACT US TO FIND OUT HOW WE CAN HELP
Office Phone:
651-797-6880
Office Address:
1835 West County Road C, Suite 80
Roseville, MN, 55113
Hours:
Monday - Saturday: 10AM - 6PM`
CONTACT US TO FIND OUT HOW WE CAN HELP
We accept all major insurance plans and are centrally located, serving those in Maplewood, Eagan, Lakeville, White Bear Lake, Roseville, Woodbury and the St. Paul area. We provide chronic venous insufficiency services and extensive leg pain treatment.

Office Phone:
651-797-6880
Hours:
Monday - Friday: 8AM - 4PM
Maplewood Location
Spartz Vein Clinic Office Address:
2411 Maplewood Drive
Maplewood, MN 55109
Eagan Location
Spartz Vein Clinic Office Address:
Town Centre Plaza
1185 Town Centre Drive, Suite 145
Eagan, MN, 55123